New York Times bestselling author.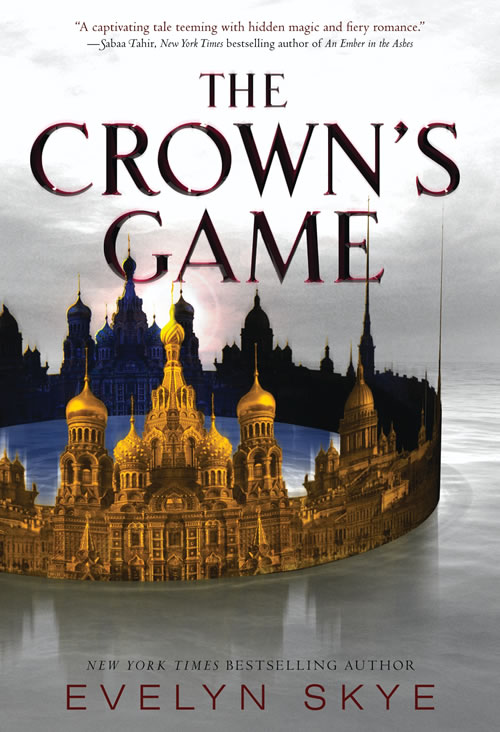 NEW YORK TIMES BESTSELLER The Crown's Game
Vika Andreyeva can summon the snow and turn ash into gold. Nikolai Karimov can see through walls and conjure bridges out of thin air.
They are enchanters—the only two in Russia—and with the Ottoman Empire and the Kazakhs threatening, the tsar needs a powerful enchanter by his side.
And so he initiated the Crown's Game, a duel of magical skill—and the greatest test an enchanter will ever know. The victor becomes the Imperial Enchanter and the tsar's most respected adviser. The defeated is sentenced to death.
Raised on tiny Ovchinin Island her whole life, Vika is eager for a chance to show off her talent in the grand capital of Saint Petersburg. But can she kill another enchanter—even when his magic calls to her like nothing else ever has?
For Nikolai, an orphan, the Crown's Game is the chance of a lifetime. But his deadly opponent is a force to be reckoned with—beautiful, whip smart, imaginative—and he can't stop thinking about her.
And when Pasha, Nikolai's best friend and heir to the throne, also starts to fall for the mysterious enchantress, Nikolai must defeat the girl they both love… or be killed himself.
As long-buried secrets emerge, threatening the future of the empire, it becomes dangerously clear—the Crown's Game is not one to lose.
F.A.Q. about The Crown's Game
How much of The Crown's Game is based on history and how much is made up?
I like to think The Crown's Game draws on history in a way similar to how Robin LaFevers' Grave Mercy (and the entire His Fair Assassin series) does—based on real history but consciously altered when the magic of the story calls for it.
I love 19th century Imperial Russia, and I am so thrilled I get the opportunity to write about it. Many people know about the end of the Romanov dynasty (Anastasia, Rasputin, the Bolshevik Revolution, etc.), but most don't know about the Romanovs before that time. I wanted to bring that era to life.
The Crown's Game is set in the autumn of 1825, and many of the characters and events both in this book and the sequel (which I'm working on) are historically accurate. I tried to reflect the geopolitical tensions of the time, such as the conflicts between Russia and the Ottomans and Russia and the Kazakhs. Also, Tsar Alexander I and his wife, Elizabeth, were very real.
That said, I made up a lot, too. After all, this is a fantasy novel. For example, one of the main characters, Pasha, and his sister, are products of my imagination. They're the tsesarevich (crown prince) and princess of Russia, but in reality, the tsar and tsarina's children actually died in infancy.
For those history buffs out there, though, I've included an Author's Note at the end of the book which touches briefly on the differences between what really happened in Russia and what I created.
Did you have to do a ton of research?
I have a degree in Russian literature & history from Stanford, so a lot of my research was actually done years ago during college, before I even knew that all that work would one day become a book. When it came to writing The Crown's Game, much of what I'd studied just came flowing back. I had to do some research to check up on facts here and there, and I did do additional research on the Kazakhs and their complicated relationship with the Russian Empire, because I hadn't studied much about that subject in school, and I wanted to make sure I understood Nikolai's past, as well as the political tensions in Russia, properly.
Where is Ovchinin Island? I can't find it on a map.
Ovchinin Island, the fictional island on which Vika lives, is named after my penpal! (We met when we were teenagers and are still friends today.) He's since asked me for the GPS coordinates of this so-called place that bears his last name. Funny guy.
Who is your favorite character?
It would be impossible to choose a favorite! But I can answer who was easier and harder to write.
Nikolai came easily to me. I knew who he was from the very start; I identify with him the most, so I could read his soul pretty clearly. (My friends would all say I'm too smiley and cheerful to be Nikolai, but he and I share a dark, quiet quintessence—for him it's on the outside, for me, it's buried inside, for only a few to see.)
Vika was often harder for me to write. She is wild and fearless, and I am not, so I had to channel other people I knew in order to get Vika right. But just because she was more difficult to write doesn't mean I love her any less. I love all of my characters fiercely, just like a mother loves all of her babies, no matter how challenging they may be.
I've heard some people say there's a love triangle in your book, and some say there isn't. What's the right answer?
To me, this book is not just about romantic love; it's about all kinds of love. It's about love between family, between friends, and also between potential lovers. So it's a whole mess of entanglement among the characters and these different types of love. When you look at it that way, it's not a love triangle or quadrangle. It's just the chaotic web of real life, the love we make and break and try to weave back together again.
What does the ending of the book mean?
Well, without spoiling it for anyone who hasn't finished reading yet, the ending means a lot of things, not only about the characters, but also about the human spirit. It's about our capacity to love and hope, even when the world seems it is at its darkest.
I know that's probably not the answer you wanted, and for that one, you'll have to wait for the sequel. Sorry… 
Are there other questions you'd like me to address? Send me a message from my Contact page, and I'll post answers for the most popular questions.
Praise for The Crown's Game
"Wildly romantic, wholly immersive, and gloriously over-the-top."
– Kirkus, starred review (full review here)
"[S]himmers with pulse-pounding romance, astonishing wand-touched wonders, startling long-buried secrets, and a climax at once tragic and heart-soaring."
– School Library Journal
"Skye skillfully incorporates Russian history, detailed and intriguing backstories for all protagonists, and inventive feats of magic by the two young enchanters…[in this] delightfully engaging romance."
– Booklist
"The Crown's Game is a captivating tale that deftly transports readers to a mysterious and fascinating fantasy world, one teeming with hidden magic and fiery romance."
– Sabaa Tahir, #1 New York Times bestselling author of An Ember in the Ashes series
"Utterly enchanting. The true wizardry is in the atmosphere—Skye crafts a Russia of magic and elegance, depicting St. Petersburg in such a breath-taking way that you'll swear you're standing on the banks of the Neva and dancing through the halls of the Winter Palace."
– Sara Raasch, New York Times bestselling author of the Snow Like Ashes trilogy
"Gorgeous and richly imagined, The Crown's Game is a dazzling exploration of the choices we make when faced with impossible situations and our darker selves. Readers will fall unabashedly in love with this novel."
– Sara Grochowski, Brilliant Books
"It was beautiful. It was terrible. I loved it."
– Hafsah Faizal, Icey Books
"The Night Circus meets Cinderella in an alternate Russia. This extraordinary world has everything from insanely creative acts of magic, political intrigue, hope against all odds, romance, and oh-such-high-stakes-non-stop action. It is hands-down honest-to-goodness brilliant. Bravo."
– Angela Mann, Keplers Books
"Game of Thrones for the younger set"
– New York Public Library
Awards and Accolades
New York Times Bestseller
#1 Amazon New Release
Amazon Editor's Pick
A Junior Library Guild selection
A Summer 2016 Indie Next List pick
Amazon.com – Best Books of 2016
iBooks – Best of May 2016
Barnes & Noble – Most Anticipated YA Fantasy Novels of 2016
Goodreads – Best Books of May
Teen Vogue – 13 Best YA Novels Coming Out in 2016
New York Public Library – 12 YA Novels to Look for in 2016
Bustle – Best YA Books to Kick Off Vacation Season Right
Buzzfeed – Ultimate YA Holiday Gift Guide
Goodreads – The Most Popular New YA Voices of the Past Three Years (2016-2019)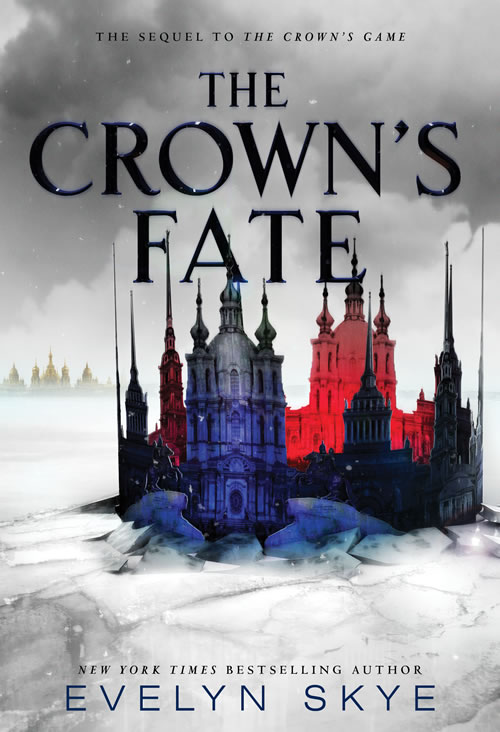 NEW YORK TIMES BESTSELLER The Crown's Fate, the highly anticipated sequel to The Crown's Game…
***Spoiler Warning: Description below contains spoilers about the first book.***
Magic is growing, shadows are rising, and the throne is at stake…
Russia is on the brink of great change. Pasha's coronation approaches, and Vika is now the Imperial Enchanter, but the role she once coveted may be more difficult—and dangerous—than she ever expected.
Pasha is grappling with his own problems—his legitimacy is in doubt, the girl he loves loathes him, and he believes his best friend is dead. When a challenger to the throne emerges—and with the magic in Russia growing rapidly—Pasha must do whatever it takes to keep his position and protect his kingdom.
For Nikolai, the ending of the Crown's Game stung deeply. Although he just managed to escape death, he remains alone, a shadow hidden in a not-quite-real world of his own creation. But when he's given a second chance at life—tied to a dark price—Nikolai must decide just how far he's willing to go to return to the world.
With revolution on the rise, dangerous new magic rearing up, and a tsardom up for the taking, Vika, Nikolai, and Pasha must fight—or face the destruction of not only their world but also themselves.
Praise, Awards and Accolades for The Crown's Fate
New York Times Bestseller
"A memorable alternate history and a page-turner full of surprises. Skye's writing holds appeal for readers who like series such as Leigh Bardugo's The Grisha Trilogy, Veronica Roth, The Hunger Games, and Victoria Aveyard's Red Queen."
– Voice of Youth Advocates (VOYA) Magazine
"Fans of The Crown's Game will be delighted"
– Booklist
#1 Amazon New Release
A Junior Library Guild selection
Barnes & Noble – Most Anticipated YA Novels of 2017
Goodreads – Most Popular Books of May 2017